Go back to the main VW page.
Number 9 • A 1973 Westfalia Deluxe
is sold to Dayna (and ostensibly Dave) in Ontario, Canada
Many more photos are to be seen here.
Click here to get a zip archive of many high-resolution photos. Warning: This is a 75 MB file.
Number 9 at the Valles Caldera in the Jemez Mountains

Peeking from its former spot for several years, outside a house in Arroyo Hondo.


General notes on condition
VIN: 2332000009. Cool!
Yes, this is a special bus. It is Number 9 off the line in 1973, and came with dealer-installed air conditioning. As a Deluxe Westy, it is one of the very first buses with headrests. And to top it off, this bus has fewer than 90,000 miles on it! (I am not kidding.)
Body has very little rust, limited to typical surface rust on the undercarriage. Key parts, including rocker panels, wheel wells, jack points, front end, and crossmembers are fine. Floors are all in excellent shape.
Original tool bag and tools! Original jack is there, but is supplemented with the more functional newer style scissors jack.
Front bumper is excellent; rear is a very good replacement, though repainted.
Camper gear is in good shape, with the original canvas in the poptop. Original front curtain, child's cot, poptop cot. All original rear vinyl and cabinetry. Trim molding was replaced only where it interfered with cabinet operation or where it was terribly distorted from shrinkage in the southwestern aridity.
The 1700-cc engine runs wonderfully, with even compression all around. Alas, the original dual carburetor setup is gone. It starts right away, even when cold.
Heat is fully operational and as good as it ever was.
All the original door rubber is in remarkably good shape. The doors close with a satisfying solid "new car" sound.
Original radio works (with a new speaker).
All original glass is nearly perfect.
All gauges and instrument lights are in working order.
Work I (or my favorite mechanic) have done over the last year:
Fitted with five new Hankook RA08 185/14C tires (that includes the spare). I repainted the wheel rims in silver before mounting the new tires.
Front seats were completely rebuilt, with refinished frames and new upholstery from Sewfine.
New curtains (except the nice original front wrap-around curtain), also from Sewfine.
Replaced all the brake components, including brake hoses, rotors, drums, pads, and shoes.
Repacked all wheel bearings.
Replaced oil cooler seal and dipstick seal.
Replaced points, condensor, rotor, spark plugs, and wires.
Valves clearances and timing set to spec.
Replaced muffler.
All new gasoline lines, from the filler neck to the carburetor, including the unique 1973 parts above the fuel tank. Oil and fuel filters replaced.
All door and hatch locks cleaned and serviced. New keys cut to code.
Replaced all the poptop seals.
I had to repaint some parts where the original paint had thinned to bare metal, including the rear hatch, the grille, and most of the "belt line", except on the front. The thin paint below the windshield is left as an example of how thin it got. I was reluctant to paint any more than necessary, in order to preserve as much as possible the original. Except in the abovementioned places, the original Pastel White L90D paint is preserved, polished, and waxed. All paint was professional quality, single stage, custom mixed from Sherwin-Williams' automotive division.
Replaced the scratched right slider cover, and welting on both sides. There was also a nasty scratch just below the right slider cover, and this has been refinished with POR-15, primer, and L90D paint. There is no body filler anywhere.
What does not work (yet): Air conditioning and handbrake indicator light.
Photos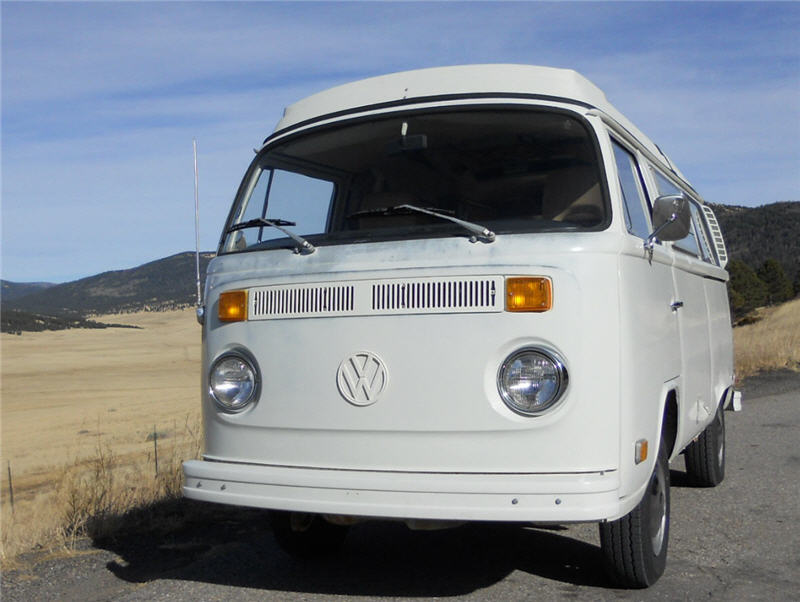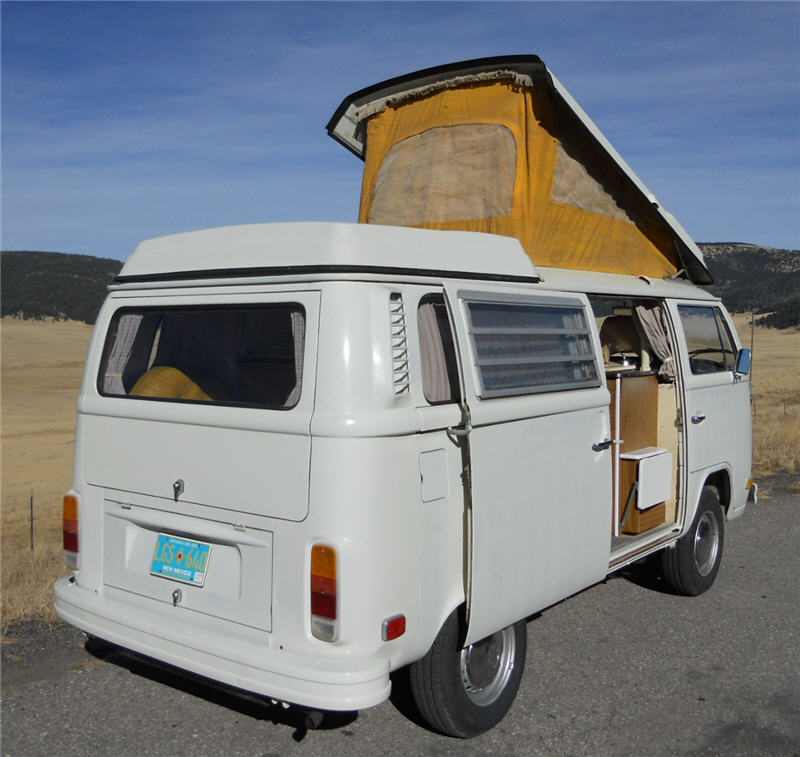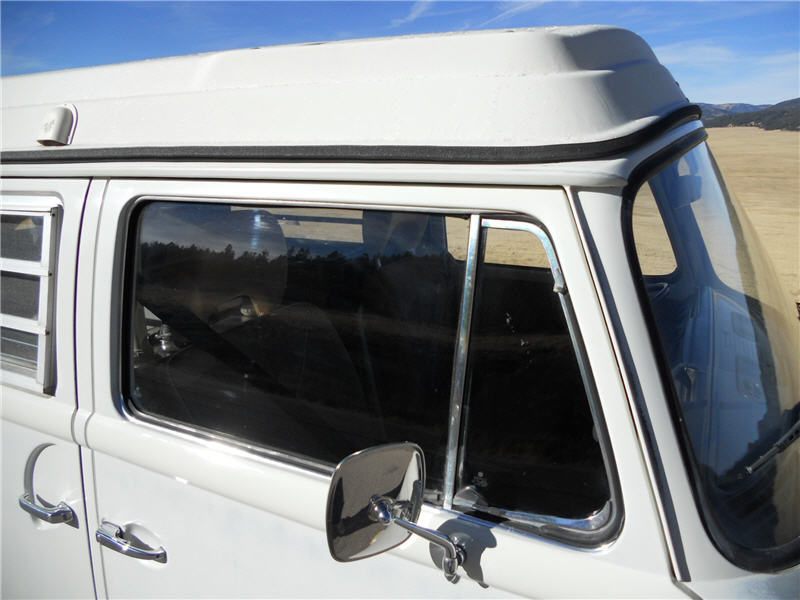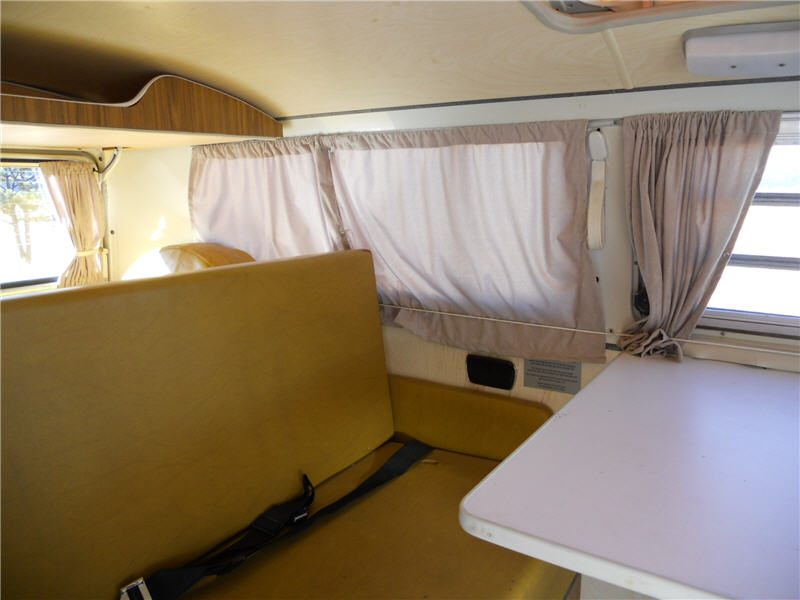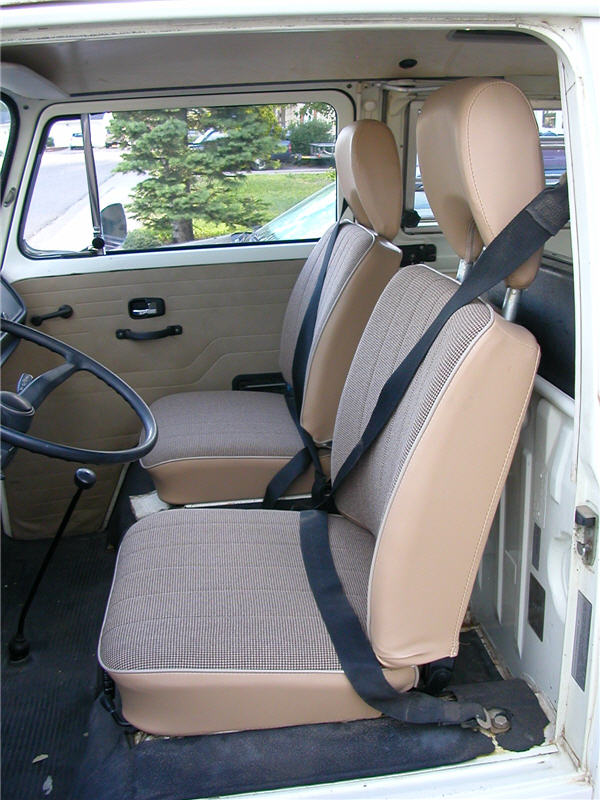 last updated 2 April 2011