Go back to the main VW page.
The Mexican VW Single Cab
This truck was built in 1975 as a factory sample by the factory in Germany specifically for the Mexican VW Plant in Puebla
For sale: $38,250
(1/2 the appraised value)
contact email: me75sc@tauxe.net
Appraisal provided on request.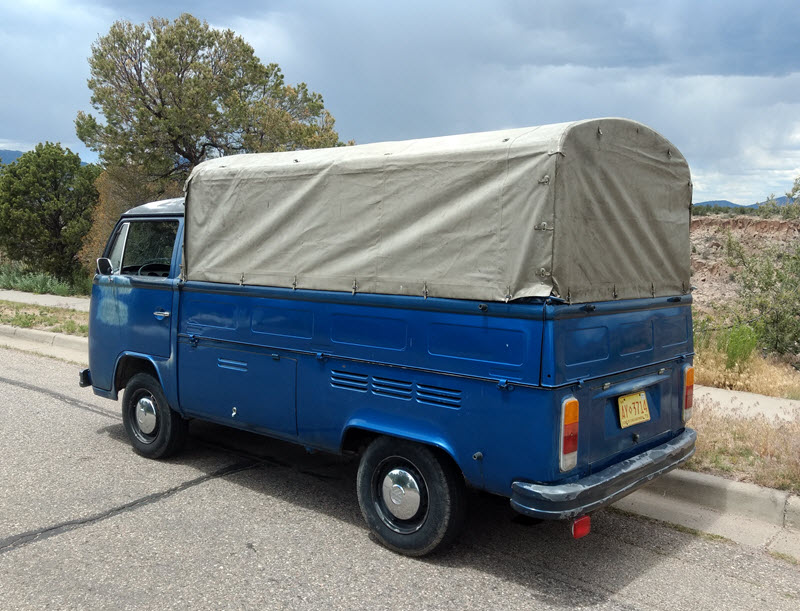 This is an interesting and unique vehicle, having been built in Germany and delivered to Mexico, as evidenced by the "ME" export code. "How did this happen?" you may well ask, since German-made Volkswagens are not allowed to be sold or registered in Mexico, likely as a protectionist measure for the Mexican VW industry. The history of this pickup, made in Germany for export to Mexico, is provided below, and is part of what makes it special. A lot of work has been done on this truck in order to bring it back to its factory configuration. Aside from the engine, all the missing bits and bobs that were special to this vehicle have been verified or painstakingly acquired. All the parts are there, from the original dual-position fog light switch to the recently-fabricated slats for the pickup bed. This makes it a great candidate for a full-on restoration. I've gone through one restoration, and I just don't have another in me, truth be told. I would love for someone to pick up this pickup and return it to its full glory. Also read the captivating build thread on The Samba.
Here is the interesting M-code plate (in the original light gray color) and the build plate: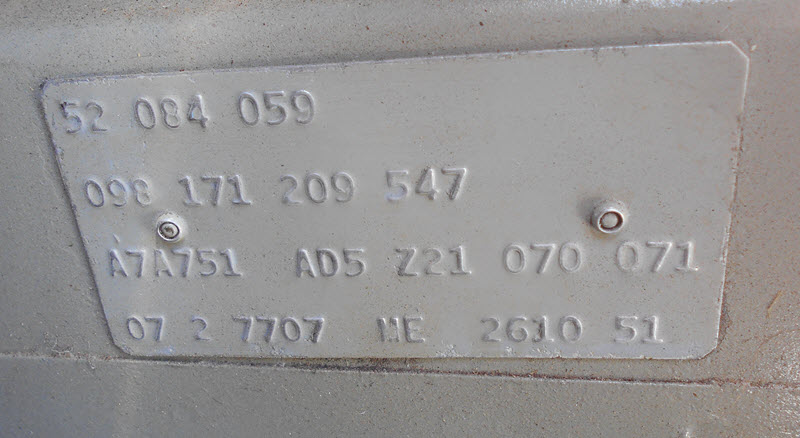 M-code plate: 52 084 059
098 171 209 547
A7A751 AD5 Z21 070 071
07 2 7707 ME 2610 51
Interpretation of M-codes: 098 radio model "Ingolstadt"
171 tubeless bias-ply tires (?)
209 PVC tilt
547 corrosion protection
A7A7 paint code L345: licht grau | light gray
51 interior leatherette dunkelbeige | dark beige
AD5 unknown
Z21 package: Z01 and Z05:
Z01 bad weather package comprising:
652 interval wiper facility
659 halogen fog lamps
571 rear fog lamp
Z05 includes:
025 trip counter and clock
162 rubber on bumpers
070 tilt and bows for pick-up
071 second lid in side panel (storage compartmnet doors both sides)
07 day 7 of the month
2 February
7707 temporary serial number
ME delivery to Mexico
2 Type 2 body
61 Pickup, LHD
0 ?
5 engine 51 kW | 70 BHP Type 1 (AS) - 1584cc, 37 kW (50 bhp DIN) - Stiff instead of torsion suspended clutch plate
1 manual transaxle

Those M-codes are in complete agreement with the options found on the vehicle during the refurbishment and during its appriasal inspection: extra wires, odd switches, and the complete original PVC tilt canvas! This truck came with all the extras, which few pickup drivers would have ever ordered, so that the Puebla factory could see what might involved (details below.)
A quick walk-around: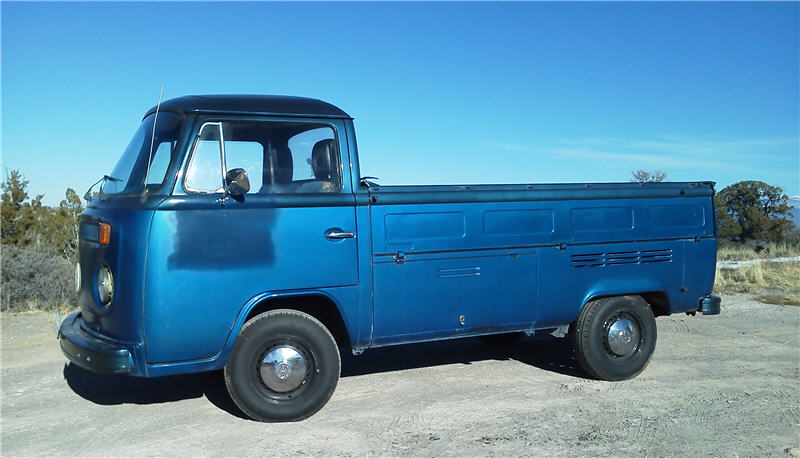 History of this vehicle:
The following history for this particular VW pickup is constructed following conversations with all previous owners. Facts have not yet been independently verified. In 1974/1975, the Volkswagen de México assembly plant in Puebla considered building VW pickups in Mexico for the Mexican and Central American market. Volkswagens built in Germany were not sold in Mexico; instead they were assembled in Puebla from a mix of German and Mexican-made parts. In order to fully evaluate the pickup from a manufacturing point of view, including optional equipment, the Puebla factory ordered two vehicles: one single cab and one double cab pickup, with all available options (excepting the Arctic package). The double cab was a beautiful deep green, and the single cab an unassuming light gray. These vehicles had the VW export code "ME", for Mexico. It is believed that these are the only two pickups ever exported directly from Germany to Mexico. The options, as detailed in the M-code plate of the single cab and confirmed on the VW "Birth Certificate", include bumper rubbers, double treasure chest doors, PVC tilt, "ambulance fans", trip odometer and clock, and a foul weather package. The Z01 foul weather package included front and rear fog lights, rear window defroster, and intermittent wipers. It had an upright AS engine, and an extra-stiff clutch. The collection of these options on a lowly pickup is a rare thing indeed--possibly unique. Since the location or condition of the double cab is currently unknown, the options that it had are also unknown. Volkswagen de México's assessment included evaluating the possibility of using Mexican-made glass, brake systems, lights, and wiring, but ultimately it was decided that the production of pickups in Puebla would not be pursued. Since these two special-order German-built VWs could not be sold in Mexico, other options for their disposition would be needed. Bill Jones, the owner of the Autohaus Volkswagen and Porsche dealership in San Antonio, Texas, had been a regular visitor to the Puebla plant, having consulted on the manufacturing lines and whatnot. The two pickups were offered to him for sale, and he happily accepted delivery in Laredo, driving them back to San Antonio. The double cab was soon thereafter sold to an acquaintance of Jones in the DC area, who promptly resold it. The rest of its story is not known to Jones. Bob Jones, son of Bill, ended up with the single cab. The pickup "wanted for nothing" and was fitted with a heavily modified 2.0-L engine in Jones Autowerks. "It would go 100 miles an hour on the flat." By the time I came into possession of this pickup, it had seen rougher times. Here are the only older photos I could find, from two owners ago. Note the mismatched emblem on the nose, the ill-fitting tilt, and the wrong mirrors. All these have been made right and proper, along with a lot of other stuff!
One previous owner (PO) recounted rear-ending someone and crunching the nose. Another used it to execute a short-lived paint job, with sparkly two-tone blue colors but never having bothered to remove surface hardware--some was simply painted right over! This is what the truck looked like when I bought it, after the previous owner had painted it:
All four POs lived in San Antonio, Texas, and none saw any value in keeping the heating system intact. Sadly, critical parts of the ductwork under the vehicle had been removed. The current engine, a CB type, was very rough, and needed a rebuild. The PVC canopy, however, has been in dry storage nearly all this time, and is in excellent condition. The hoops and bows are incomplete, but excellent replacement parts hand made by Derek Gregg (DG Creations) have been obtained. Ash bed slats are by Ken Hippensteel. I reproduced the wood stringers myself, from 1x2 red oak. My vision for this truck has been to restore it to the condition that this one is in. Except whomever restored it smoothed over the captive nuts for the tilt. Pffft! It is the same light gray color, though! YouTube from a 2014 show in Wenduine, Belgium, and
YouTube from a 2014 show in Maasctricht, Netherlands.
Thank you baywindowbus, for posting those videos!
As promised, here are some of the cool factory options:
the original full-height PVC tilt cover... ... with new stainless hardware and stringers and hoop caps built by contemporary craftspersons
double doors for the storage compartment
intermittent windshield wipers
Blaupunkt Ingolstat radio (yes, the specific model was indicated)
rear window defroster
H4 headlamps with the integral parking light
fog lights, front and rear
trip odometer and odometer in km; speedometer in km/h, and clock
rubber bumper strips (not shown, but acquired)
These would look like this one, from a screen shot of a very similar truck at a show featured in the YouTube video referenced above.
engine compartment lock
The only extras that were not added are things that the north countries would have ordered, like the gasoline heater and headlight washers.
The Good:
This truck runs and drives well, and would make for a good daily driver even if it weren't restored.
The current 1800-cc Type IV engine with dual Weber carburetors has new AMC heads reworked by Adrian Audirac at Headflow Masters and has a new clutch, pressure plate, and 215-mm flywheel. The only issue is a persistent oil leak at the front end that I have not been able to solve.
The body has very little rust. Just a bit of surface rust on the undercarriage.
New brake discs and pads in front, and shoes in rear, new master cylinder, and a booster rebuilt by Brake Parts and Materials in Indiana.
All the lights work prpoerly, including the "extras" that have been restored: front fog lights (temporarily wired as driving lights), rear fog light, and the integral "parking lamps" in the Hella H4 headlights. Photos above.
All instruments function aside from the clock, which is original but has a split gear that is beyond my ability to repair. The speedometer reads in km/h, and the odometer and special resettable trip odometer read in km. The odometer is a replacement acquired from Europe, so the actual "mileage" (kilometerage?) is not known. Photos above.
The factory-original fresh air "ambulance" fans work! These are great for defrosting the front windows.
A proper Blaupunkt Ingolstat radio, specified in the M-Codes, was acquired from Germany and works, though the tuner knob is a bit stiff. Photo above.
I refinished the entire fuel tank compartment, including the fuel tank, and replaced all the fuel hoses and lines attached. That was an exceedingly unpleasant job, working with hazardous chemicals in a confined space! The tank is a replacement fuel tank from a fuel-injected engine, in case someone wants to put that type of engine in it. I have a '74 tank for it, too, if you'd prefer something identical to the original. Before photo: The refinish includes the comparment firewall panels. I also refinished the engine comparment at the same time.
I also refinished the back half of the cab...
...and installed a new seal on the rear window.
I restored and reupholstered the seats with tweed and vinyl seat covers from Sewfine. I made up the third head rest also, and it comes with the truck.
The battery is replaced, and sports the wonderfully convenient knife switch disconnect. I find the disconnect so handy that I install it on all my restorations as a matter of course. The ground strap is NOS VW.
The Bad:
Of course it ain't all roses and butterflies. Here are some of the issues with the truck:
One of the previous owners, all of whom lived in San Antonio, Texas, removed key heater components. I have acquired parts needed to restore them, but it will take some work. They took out the front heater tee, the ducting underneath the vehicle, the Y-pipe that crosses over the rear suspension, and even the rear mounting brackets for control cables. What (fortunately) remains is the ducting below the front floor, the heater cable tubes, the flapper valves, and the heat exchangers, which are in good shape. I managed to restore heat to the cab by installing temporary ducting, and it works but it is not pretty. Parts I have for heat restoration include the front heater tee, the plastic ducting from that to the dash vents, the Y-pipe over the rear suspension, the accordion tubes, and the engine compartment blower fan. This all comes with the truck, of course.
There are holes in the floor of the storage compartment from previous neglect. Conveniently, these function as drain holes should water get into the storage compartment, and the rust has been treated and stopped. Some of the floor of the storage compartment was treated with fiberglass, so a proper refinishing will need to remove that.
I think I mentioned that the engine leaks oil.
The bed leaks. This is actually a VW design flaw, in my estimation, since the original bed slats were installed with rivets right through the bed, and once they are gone, there are a whole lot of small holes in the bed. I have tried to maintain these closed with gutter sealant, but in the long run, these all need to get welded up like I did on my double cab. The holes are marked in this photo with paint:
The Ugly:
Some stuff isn't good or bad, it's just ugly.
The paint. Ugh. The PO's paint job looked good enough long enough for him to sell the truck to me (of course, I would have bought it regardless of the paint) but it looks awful now. I won't even show a photo of the peeling paint.
The bedliner. More ugh. I hate bedliner. It cracks, water gets under it, and it peels off and causes innumerable problems. I experimented on a little patch of bed with aircraft paint stripper, and it worked well to remove the stuff. In fact, that little area, even without bedliner, is the best looking part of the bed!
Surface rust. This photo of the roof of the storage compartment is typical for areas that were not painted by the PO or refinished by myself, like the undercarriage:
The lack of heater components was bad, but my jury-rigged heat ducting is just plain ugly. It works, but it is ugly. I'm not even going to dignify it with a photo.
Work done as of 2020:
Wow. So much work has been done. It may be best to refer to the thread on The Samba (link provided above), but here is a quick summary aside from normal maintenance stuff:
Replaced brake rotors and pads, and rear shoes. Flushed brake system.
Brake booster rebuilt, and new master cylinder.
Replaced front and rear wheel bearings.
Top end of engine rebuilt, and aluminum plugs added to oil galleries.
Powdercoated all engine tin.
Repaired/replaced all instruments (except the clock, which I could not).
Restored all lights per factory spec.
Repainted the rear of the cab, the fuel tank compartment, and engine compartment.
Rebuilt and reupholstered seats, sourcing a good 1-year-only 1975 driver's seat from Way-Out Salvage in Arkansas, and a full set of head rests (now with matching upholstery!)
Installed two three-point retractable belts and new lap belt. For safety.
Replaced mirrors with good aftermarket.
Replaced clutch, pressure plate, flywheel, and roller bearing, using all new bolts and 5-hole washer like yer s'pose to.
Rebuilt CV joints (already a boot needs replaced).
Replaced fuel pump with a Carter cylindrical pump.
Serviced all locks, which use the same key. Got new keys cut to code.
Replaced fuel tank and fittings.
Restored ignition with a new switch with proper key.
Replaced windshield and seal; replaced rear window seal.
Replaced muffler with stainless steel beauty from Vintage Speed.
Replaced five tires with Hankook RA-08s.
Parts acquired and installed:
As I've said, I have spent a good bit of effort in tacking down all the parts that were once on this truck as factory options, and that somehow went missing. This was no small effort, involving scouring parts houses not only in the US, but in the Netherlands, Canada, the Philippines, the UK, and Germany. In some cases I had to enlist hte help of friends since not everyone wants to bother shipping to the USA. Here is a summary of those parts that I've installed on the truck. Others are awaiting paint, because, well, you don't want to install them, then have to remove them for paint and reinstall them.
OEM, if not original, mirrors.
A new stainless steel muffler from Vintage Speed. OK, this is not stock, but neither is the engine. It is nice, though.
New window seals, front and rear.
Those little red caps that go on the door hinges. Yes! All four!
The aforementioned Ingolstat radio.
Three headrests.
Better (certainly safer) than new seat belts.
The missing pieces in the tilt structure, including end caps on the hoops, and the middle spacer, all made by Derek Gregg. I also fabricated the wood stringers, and new stainless hardware all around from Grainger.
Parts acquired and not yet installed:
These all come with the truck. It made little sense to install most of these before paint, so they are waiting patiently in their boxes until that is done.
A fresh set of ash bed slats, by Ken Hippensteel. These would look like the ones in this screen shot from one of the videos posted above.
All the missing heater components, as mentioned above.
Rubber bumper strips. Photo above.
NOS (!) seals and cover plates for the storage compartment locks.
Two complete rebuild kits for the front doors from Bus Depot, including weatherstripping, door panels, passenger side regulator (driver's side is OK).
Replacement glass for the driver's window, and a complete replacement "wing window" for the driver's side.
Two beige vinyl front door cards with heat seams, from TMI.
The original glove box, stored safely in a box. A temporary plastic one from Wolfsberg West is installed for daily driver use.
A complete set of original German hubcaps in excellent condition, and in safe keeping.
The original gas cap, in safe keeping.
The original steering wheel, in safe keeping. I've installed a later model padded one (my preference) for daily driving.
Mounting bracket for a Type IV engine air cleaner box, though I am not yet convinced that the truck actually had one.
The entire tilt and original PVC canvas. I did install it to make sure it was all there and that it fits (it is and it does--see the photo at the top of this web page) but it does not "live" on the truck.
Replacement fuel tank from a 1974 bus, which is a match to the original 1975 tank. The original had a hole in it, rendering it irreparable. This is one part that I did not keep, as it needed to be destroyed to prevent future attempts at repair.
Work still to be done (sorry...):
This is not a show truck or museum piece -- yet! But it is well on its way. Here is the work remaining to get there:
There's gonna be some welding. This includes filling the original holes in the bed (for bed slat rivets), holes in the storage compartment floor, and holes in the door where a PO had installed the Ford mirrors.
A proper replacement of some of the captive nuts in the bed will also require welding in place.
Depending on the results of an investigation regarding the status of the original air cleaner mounting bracket, this may need to be welded in.
The nose needs some work. Not replacement, but perhaps straightening. It looks fine, but one of the previous owners ran into something, and it must have got pushed in just ever so slightly. This is evidenced by the fact that the heater tee does not quite line up with the ducting, and that the fresh air controls do not work smoothly.
It would be best to track down the appropriate engine for this truck. In fact I have done so, and I know of a European donor vehicle that has a 1976 AS 1600 engine in it that would be a perfect match. It is even nearby and for sale! This is it:
From there, it is "just" body work and paint!
Oh, and the front brake caliper cylinders need new seals.
Extra goodies:
Even as I replaced parts, I always kept the original ones for... well... whatever. Here are a bunch of other goodies that come with the truck:
Professional vehicle appraisal ($76,500 in its current condition)
I have a bit of a thing for license plates, and acquired several that are relevant to the history of this truck. These come with the vehicle.

A 1975 PUEBLA plate, which the truck would have had if it could have been registered in Mexico.
A 1975 Texas truck license plate. Curiously, it is a souvenir reproduction that just happens to work. Fortunately, it is not of such high value that you would not put it on the front for fun. (We can do that in New Mexico, since we recognize only the rear plate.)
The current registered New Mexico 1975 light truck plate. This is a antique plate, and under NM law is allowed. This one is fading, so I also have...
...another 1975 NM light truck plate that is in fine condition. This would be useful if you want to register the truck in New Mexico.

VW "Birth Certificate" from the Volkswagen Museum, veryfying the truck's unique status:
Original 1975 VW commercial vehicles brochure
Receipts for all work and parts.
A collection of spare parts, like a fuel pump, carburetor mounting gaskets, fuel filters, etc.
last updated 24 April 2023