Go back to the main VW page.
Cassandra the 1976 Westfalia
SOLD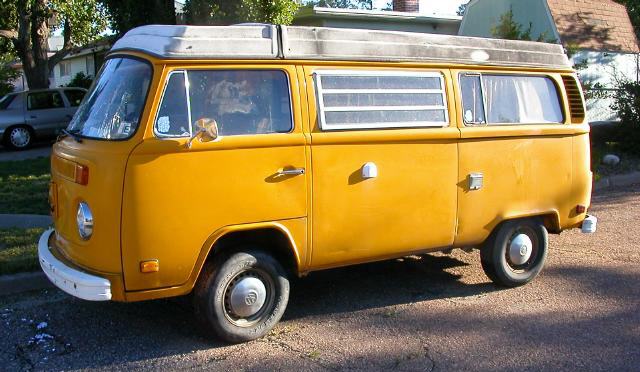 This bus was sold to a happy new owner in Phoenix who wanted a retirement project.
A 3.5 MB zip file of detailed photographs is available here: Cassandra_Mar2009.zip.
Since those photos, the door handles have been fixed and the door panels reinstalled.
General notes on condition
Body has very little serious rust, limited to the battery tray and the rear right fender. Key parts, including rocker panels wheel wells, jack points, front end, and crossmembers are fine.
Nose is crunched by tire, and shows some previous body work.
Engine is not currently running. Suspect minor maintenance needed.
Until the engine is running, the brakes and transmission have not been evaluated. Same with speedometer, gas gauge, etc.
Windshield needs replacing.
All curtains are present, including the rear mosquito netting.
Main sink cabinet is missing.
Rear bumper bent, front bumper is fine.
Front seats could use rebuilding.
Dash pad has multiple cracks.
Poptop mechanism works fine, though canvas is torn.
The tires hold air, but are the wrong size and/or rating.
No radio.
Fixing done
Both front door handles and seals replaced.
Driver's lock cylinder replaced—all locks now work on original key. Cylinder and additonal key made to code by Gabriel Garcia's shop.
Slider door now closes well; nylon spacer replaced.
First layer of cleaning is done.
Got a spare rim.
Fixing still to do
Get the engine running. It turns over and often idles, but dies if any gas is applied. this is typical of a vacuum leak. Valve asjutment, tune-up, and vacuum system refurb is planned. Parts are on order.
New fuel lines needed.
New tires needed, including spare.
Battery tray needs replaced.
New exhaust needed.
Windshield needs replacing.
Laminate needs much repair.
Replace kick panels.
Replace canvas.
Rebuild and reupholster front seats.
Add a radio.
Install sink cabinet or bench or something.
Clean carpets and upholstery.
Rear curtains need lower rail.
last updated 15 May 2009