Go back to the main VW page.
1974 Westfalia
Sadly wrecked • For sale with lots of good parts on it.
$550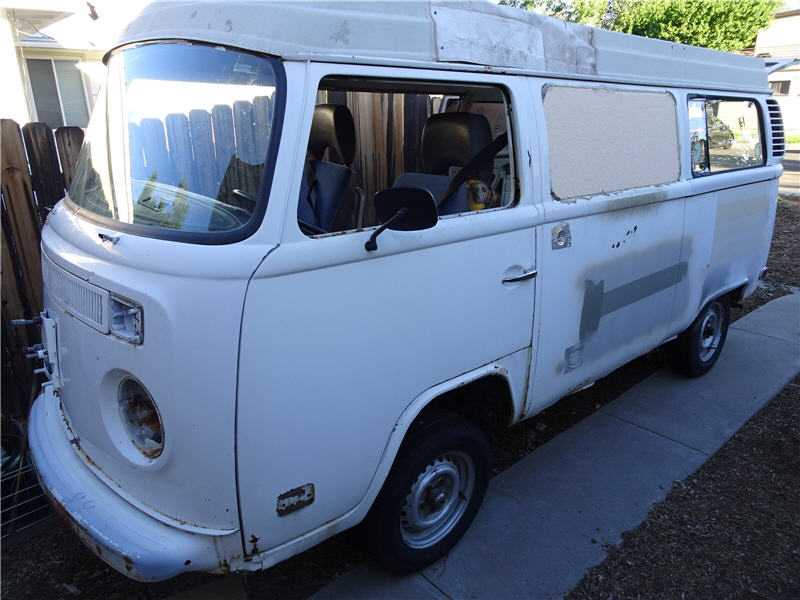 Notes on condition
I have a clean title in my name.
This bus is a standard (and classic!) 1974 Westfalia, but has been in a crash that has damaged the front passenger's side. Damage is such that IMO this bus will never roll again as a registered vehicle. It would not be cost-effective to undergo the necessary body repairs. Most of the key parts of the undercarriage are rusted. The rockers, the wheel wells -- all pretty much gone, and not much to work with. The front beam is also messed up in some odd way from the crash, but this bus does rool, steer, and stop.
The engine I gave to bus pilots in need.
Other good parts include:

front seats in need of upholstery but with headrests,
front seat belts,
nice dashboard,
full set of instruments in the classic 1974 pod,
full set of door locks, keyed alike,
steering wheel and components, except the beam itself,
steering gear box,
brake system, both hydraulic and cable,
transaxle,
some body metal.
Some Photos
Photographs of this bus are available in these zip archive files: undercarriage.zip (24 MB) wrecked74Westy_body1.zip (11.6 MB) wrecked74Westy_body2.zip (12 MB).
last updated 2 February 2019