Go back to the main VW page.
Jelly Bean • A 1973 Wild Westerner Transporter
General notes on condition
Jelly Bean is a rough but mostly original Volkswagen 9-seat Station Wagon (aka Transporter). This one is special in that it sports the "Wild Westerner" appearance group. Until I rescued it, Jelly Bean had parked in the same spot for at least the last 10 years (verified with satellite imagery), and has suffered a bit of neglect. Surprisingly, all the glass except the windshield is intact, and the original engine, radio, front seats, and interior panels are present. Matching year-correct 3-passenger middle and rear seats have been added, complete with seat belts and mounting hardware, making this a quite rare 9-seat Wild Westerner. According to the registry and this thread on The Samba, only 3 of these are known to exist.
The bus is powered by its original CB 1.7-L dual carbureted engine.
A deciphering of the M-codes:
M-code plate: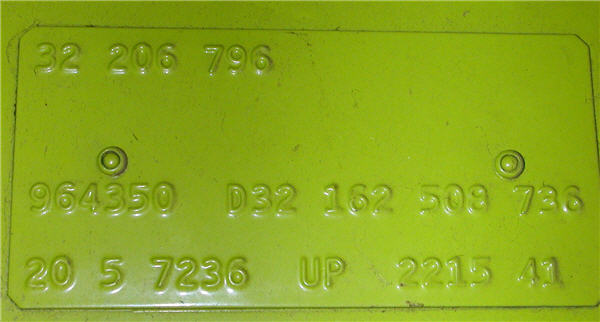 32 206 796

964350 D32 162 508 736
20 5 7236 UP 2215 41

Interpretation of M-codes:
9643 Wild Westerner paint codes L65K Ravenna Green over L64M Apple Green, and the blue stripe at the belt line is L51P, Olympic Blue
50 interior leatherette schwarz | black
D32 USA specifications (includes several subcodes)
162 rubber molding for bumpers
508 vent wings in middle windows, and driver's side rear
736 unknown
20 week 20 of the year
5 Friday
7236 temporary serial number
UP delivered to Portland, USA
2 Type 2 body
21 Transporter, LHD
5 9 seats
4 engine spec
1 manual transaxle

The Good
All glass intact
Headliner is actually pretty good
Original Sapphire radio present
Engine seems unmolested and runs, with the original dual Solex carburetors!
9 seats!
Most of the body is not rusted; rust is quite localized
Roof and paint above the belt line is in good shape
Windshield sill looks good
Parts acquired so far for restoration:

slider door lock parts
middle seat, mounts, and 3 special seats belts
a full set of 9 head rests
rear seat, mounts, and rear seat belts
heat diffuser and flap for under middle seat
floor mat
passenger arm rests
steering wheel
rear marker lights
interior dome lights
passenger side mirror
hubcaps
1973 YOM license plate

Parts still needed for restoration:

new tires
bumpers and rubber bumper strips
window rubber and special trim
sun visors
door panels (NOS black door panels are still available!)
kick panels
complete upholstery for all 9 seats and 9 headrests

Work done so far towards restoration:

cleaned all the junk out
got the engine running!
rebuilt all door locks, which had all been attacked with implements
got keys cut to code
removed grafitti

Work to do to complete restoration:

clean clean clean
evaluate all mechanicals: engine, brakes, instruments, etc.
lots of metal replacement
completely reupholster the seats
finish door refurbishment; clean door lock mechanisms
replace door panels, hubcaps, bumpers and rubber strips, mirror glass, dome lights, tires, steering wheel, sun visors
mount the set of Hankook RA08s that I have for it
The Bad
Needs metal work: rusted doglegs, rockers, jack points, driver's floor, and crunched nose
The Ugly
Paint, while a decent respray, needs polish. The bottom half will all have to re redone following metalwork.
Could use new window rubber, but it's not terrible.
Needs new bumpers and rubber strips (like it had new).
Photos as acquired:
Walk around the outside
Engine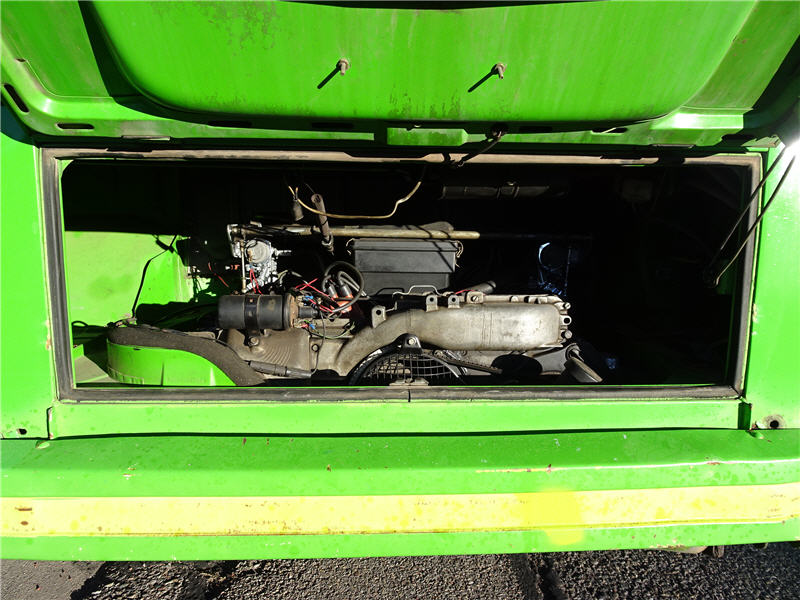 Interior
last updated 5 Jan 2016